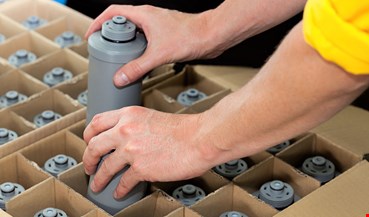 New Poly Mailer Design Increases Efficiency
A large southeast e-commerce fulfillment center needed to address the challenges of peak demand and reduce labor costs.  The growth of e-commerce has truly been unbelievable over the last decade.  With each passing year its more difficult to find the additional 4th quarter temporary labor to meet increases in demand.  To stay competitive every e-commerce company maintains a very high SLA, service level agreement, with their customers.  Improving labor efficiencies is paramount to that goal.
A key customer partner presented PakSouth with the challenge to find ways to reduce labor and reduce the costs of operations.  One area we targeted was soft goods where they utilized poly mailers.  We introduced poly mailers on a header that enabled our customer to reduce labor by 25% while maintaining neutral material costs.
The poly mailers are mounted to a table fixture which hangs them in front of the packer.  This significantly reduces the time to grab, open and place the item in the mailer.  After the item is inserted the packer simply tears the mailer from the perforation.  PakSouth also provided the engineering and installation of the mounting fixtures to insure a seamless transition.
Look at the video that showcases how this solution improves efficiency and reduces labor costs!