We send the experts to your facility. Keeping your equipment in top operating condition is not only your priority it's ours. We will train your maintenance teams trouble shooting techniques and conduct on site part assessments to prevent down time from occurring. At PakSouth our technical group is an integral part of our partnership with customers.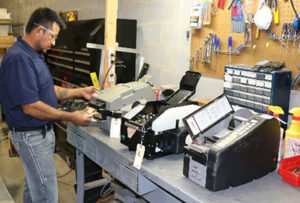 Expert Technical Service Support
Factory Trained technicians
Mechanical and Electrical experts
On-site service support
Training your maintenance team
Preventative maintenance
Proactive technical advice
Custom modifications
We also repair small hand tools and Water Activated Tape machines in-house. We maintain an extensive parts inventory for Better Pack, Phoenix, and Marsh paper tape machines to name a few. This helps to keep repair costs low and we can provide the best service turn around times in the industry.