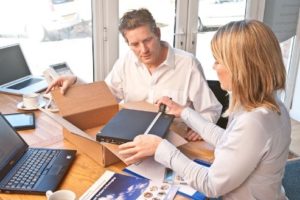 The starting point of designing the best packaging solution is to review a sample of the product being packaged. If the product is not physically available or is still in concept development, then we need to review the drawing of the product to start the process. Dimensions, weight, product shape, fragility, shipping quantity, and lastly the desired shipping method all are variables to consider in the design process. There is really no replacement for being able to handle the sample product to help determine fragility.
Once product fragility is uncovered we test potential concepts. We develop pack solutions to ISTA approved drop testing criteria to insure our design withstands the rigors of the shipping environment. The weight of the product typically dictates carton clearance and burst strength requirements. For example, products weighing over 50 lbs. are often placed in a double wall carton or 275# test strength to provide adequate integrity. Once we have the right packaging medium and carton design, ship testing samples is often a great way to obtain a quick snap shot of transit performance. We will provide the sample cartons and packaging materials at no charge to conduct ship testing.
With the new UPS & FedEx dimensional weight pricing polices many companies are revisiting their current packaging designs. It's a great time to explore reducing the clearance in the carton to optimize the shipping cube and reduce the impacts of higher shipping cost.
New innovations in packaging materials allow you to protect more with less!
All packaging materials and methods are not created equal so understanding shipping volume expectations helps provide the most efficient process. We need to focus on standard materials for lower volume shipping. In higher volume shipping applications custom designed solutions usually provide the lowest cost and optimal production efficiencies.
Package design is our specialty whether it's protecting a fragile product, reducing the current packaging costs thru design, or developing a new branded design to enhance your customers experience. We understand the urgency often required with design and make it our priority to provide quick feedback to help insure a successful launch of a new product.